---
BuyBackMart provides an online marketplace for used products, connecting individual customers and vendors, to buy and sell, conveniently, instantly and with reliability, just with a few clicks. Working with a vision to make the world, a more affordable and cleaner place to live, wrapping it up with a relief of guarantee and reliability, is what we always strive for.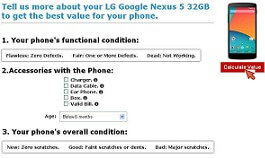 BuyBackMart facilitates Individual Customers to sell their used products online, using our hi-tech online calculator, for INSTANT HARD CASH or EXCHANGE it with any other useful product they wish to have, all this done with free home pickup and bought by our registered Buyers who pre-bid to quote the customers a very good price.
Sellers at BuyBackMart provide genuine, high quality and thoroughly checked used products at an affordable price, with 5 days replacement policy and 3 months seller warranty, with various payment options like COD, Credit cards, Debit cards and also on EMI something not so common in this segment.
Creating a wonderful platform where Sellers and Buyers come together, to put of things they no more need, and to buy things at an affordable price, with reliability, valuing both our customers and vendors, time and money, making the world a MORE AFFORDABLE AND BETTER PLACE to live is what BuyBackMart will always strive for.
Here at BuyBackmart we have different teams to focus on each and every need of customer.
Some of our teams are as follows.
---
Our Highly qualified and innovative website development team always has improvements to make or aims to achieve to provide the best graphical user interface to our customers and merchants. They in all manage 3 ends:
1. Main Website : The main website from where individual customers sell products to buyers, and buy products uploaded from numerous sellers.
2. Seller Zone : Backend from where sellers upload their products, maintain their inventory, accounts and manage orders.
3. Buyer Zone : Backend from where buyers adjust their demand for products, maintain their inventory, accounts and look for hot trends to buy.

---
Our Gizmo technical team Loves gadgets and technology.
Constantly updating the database in the fastest changing market
for Thousands of products is what they love to do. These technology
lovers will be there for solving all the technology related issues you face.

---
Looking over the operations from the multiple cities where we have our pick up centers setup is the job of our operations team. Always on their toes to give customers and merchants the fastest and the best possible service they can is what they constantly
strive for.

---
Verifying, Adding and providing help to the rapidly growing
number of buyers, sellers and franchise is their job. Always there to
help and seeing to it that our comrades succeed with us is what they
work for.

---
Seeing to it that our customers get the best possible service. With all their queries and issues being solved at superfast speed is what they are here for.

---
Conveying the right information, to the right people, at the right
time is what they look out for. Our Highly energetic marketing team
always looks out for new strategies to reach to customers and merchants
who need us at the right time. Let it be Social Media, Videos or Offline
Marketing they make our presence felt everywhere.